The Scientifically-tested Ramie Mattress Pad

High rates of absorption and moisture release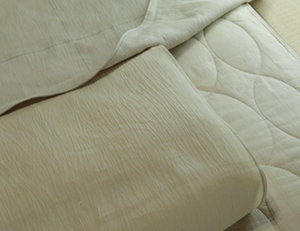 The humidity level remains approximately the same between Samples A and B for the first 40 minutes.  After the 40-minute mark, note the sharp increase in humidity in Sample B.  The humidity remains nearly constant in Sample A, indicating the combination of the Ramie Mattress Pad and the Ramie Sheets are able to both absorb and then release moisture.

The Consumer-Reported Experience
Our consumers have reported waking up feeling refreshed after attaining a deep sleep, with very little moisture on the back of the body.

※This data was announced at the 37th annual meeting of the Japanese Society of Sleep Research.
※Use of any data or images without permission is prohibited.